When the opportunity came across our paths to acquire AwesomeMitten.com in the fall of 2020, we knew it would be an amazing opportunity to showcase our local content expertise as well as give us room to experiment with, test, and fine-tune new ideas to increase our creative marketing offerings to clients.
This new venture is an opportunity to try and test new relationship-building strategies, experiment with different types of content, and think outside the box when it comes to reaching our ideal audience. As we test and prove our methods, the best strategies and content will trickle into our client work. This not only helps us to sharpen our craft for our clients and prove our methods, but it also creates an open book showcase of our best practices for future clients to watch and observe.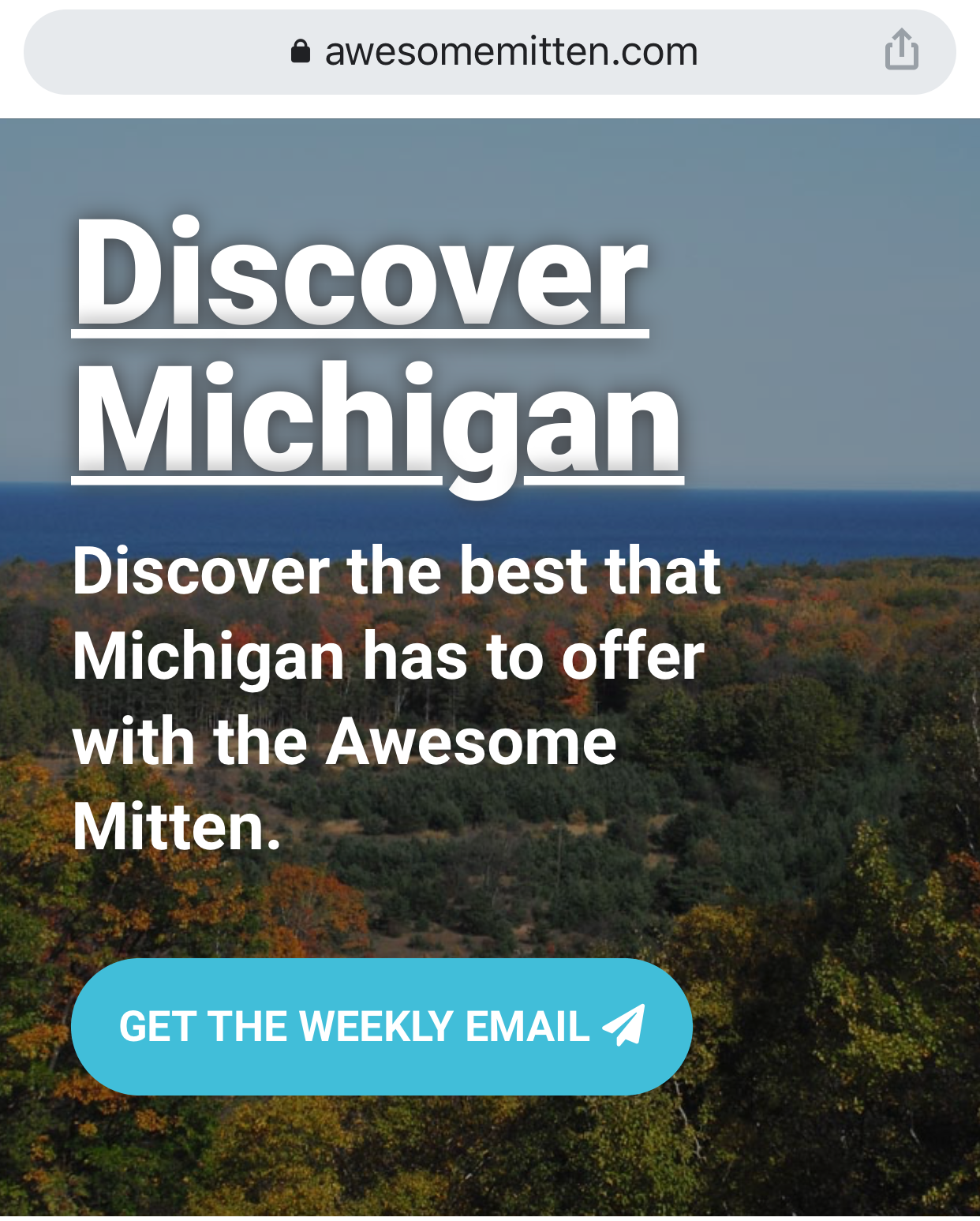 About Awesome Mitten
Awesome Mitten helps Michiganders discover the best that Michigan has to offer – from the shores of Lake Superior to the Indiana/Ohio border and everything in between. We both create and curate content that highlights our Mitten State as a whole as well as showcases the gems – both iconic and hidden – contained within our state's two peninsulas.
Our mission is to cultivate a love for and engagement with the places, products, and people unique to the great state of Michigan by providing high-quality content and resources to encourage Michiganders to be a part of their local communities and support small businesses while enjoying our mitten-shaped state to its fullest!
Awesome Mitten's Ultimate Guides
A major part of our content creation and curation is centered around creating ultimate guides to Michigan places, products, and people. We want to showcase the best Michigan has to offer and encourage Michiganders to support local Michigan businesses, buy made-in-Michigan products, and engage with their fellow Michiganders.
Seasonal Guides
Michigan is a state that enjoys all four seasons to their fullest, and we want to celebrate and highlight the activities and destinations that are "musts" in each season with our seasonal guides.
One example of this is our Must-Visit Places for Amazing Fall Colors in Michigan + Tips for Making the Most of Your Michigan Color Tour article.
Regional Guides
There are many different regions throughout the state of Michigan that are worthy of their own dedicated section on our website. By creating ultimate guides to various regions, we can better showcase the places, products, and people that make each region unique and worth exploring!
Our Best Things to Do in Traverse City, Michigan guide is a great example of a regional guide that highlights the best of an area while linking to additional resources in that particular region.
Food & Drink Guides
While we don't claim to be foodies or know a lot about microbreweries ourselves, we utilize the expertise of other content writers to include the guides to the best food and drink in Michigan. Part of our mission is to engage local Michiganders in their communities and having local content creators contribute articles is one way we can do that.
The Best Local Gluten-Free Michigan Restaurants is an example of local contributor content.
Awesome Mitten's Deep Dives
Sometimes when we're exploring Michigan we find unique places, products, and people that we want to feature with a deeper dive – an article that takes a closer look rather than just a cursory glance. These pieces might include "the best unique boutique hotels in Traverse City Michigan", "Fortress Coffee – a local roaster in Jackson Michigan", or even "Loving the Lansing-Area Libraries".
Frequently our deeper dives shine the light on a specific establishment that we've mentioned in our ultimate guides but that we feel deserves a closer look.
Awesome Mitten's Local Business Partnerships
Just as our mission at Red Oak Local focuses on serving local small businesses, we want to partner with local businesses in Michigan with Awesome Mitten. We're not a sales team trying to make money off sponsored ad placements or one-size-fits-all marketing.
We work with each potential partner to find a package that fits their budget and marketing needs while allowing us to showcase and promote them well to our audience.
Find out how online advertising with Awesome Mitten is different.
Sponsored Content
One of our most popular partnership plans includes sponsored content. We write conversational content that engages our audience, encouraging them to support our partners. This content can take several forms including social media posts, articles on our website, and newsletter spotlights.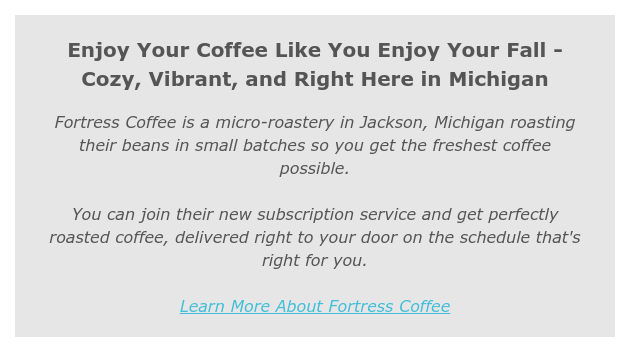 Michigan-Themed Giveaways
As we look to engage Michiganders with the places, products, and people in our great state, we gather a bundle of seasonally-appropriate, unique Michigan items and host a giveaway. Our inaugural Falling into Michigan Giveaway was hugely successful reaching approximately 60K individuals and connecting 4.1K people to the Awesome Mitten through our weekly email subscription.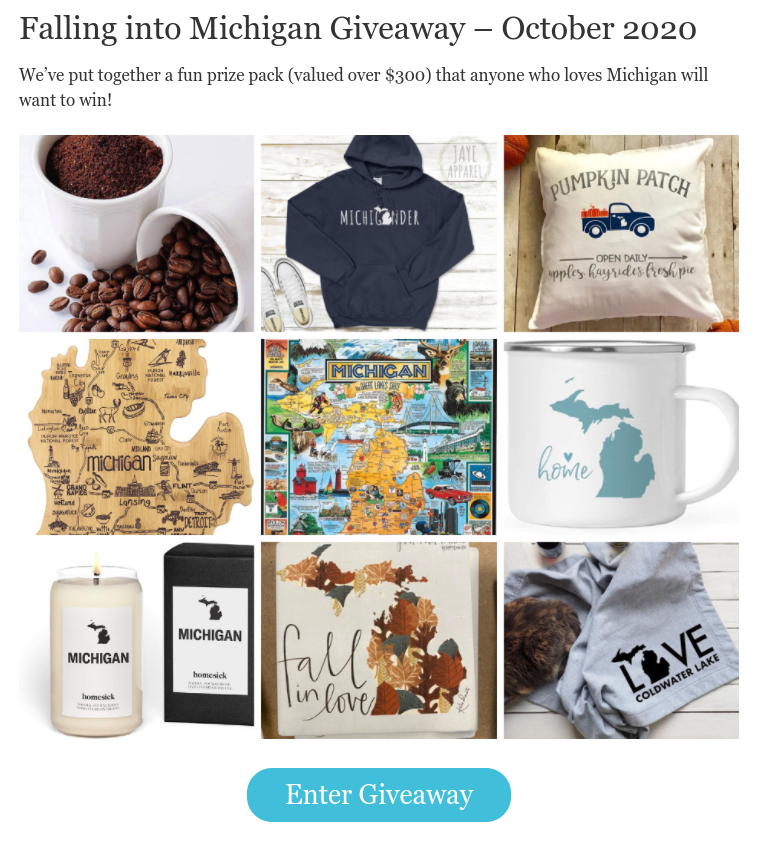 What was started by our predecessor at Awesome Mitten as an annual "summer bucket list" opportunity for local summer destinations and summer activities throughout the state of Michigan is returning in 2021 with plans to expand the list and eventually highlight various seasons throughout the year. We are excited about this opportunity to partner with local Michigan destinations and share some of our favorite seasonal Michigan activities.