Did you know that 93% of potential guests look at your online reviews before making a decision to book? Run-of-the-mill positive online reviews are nice, but having online reviews that sing your unique praises are what help you to stand out in your online neighborhood.
Problem: Needed to Stand Out From National Chain Hotels
The Montford Inn is a Select Registry, Distinguished Inns of North America property in the heart of Norman, Oklahoma. Just blocks from the University of Oklahoma, they provide a high level of service and care for their guests in an urban escape.
The majority of lodging options in the area are large chain hotels with recognized names and low-quality, cookie-cutter service, and Montford Inn needed a way to stand out by highlighting:
the difference of staying in a locally owned, boutique lodging property
the reputation & trust they have with the University's most esteemed guests
their unique amenities like the gourmet breakfast prepared by the owner each and every morning
Solution: Lodging Reviews Pro Implemented
We started working with Montford Inn in late 2014, and we began to request reviews from guests. At the time they had 9 reviews on Google but were already loved on TripAdvisor. At the beginning of 2019, we expanded our online reputation management service to capture, manage, and market their reputation in a more complete way, using our Lodging Reviews Pro system.
The Lodging Reviews Pro service uses a consistent 3-part review system to capture reviews each and every month, focusing first on 1st Party Direct Reviews to get the most honest in-depth feedback possible. After giving guests an opportunity to provide feedback, we turn our attention to a balanced approach of collecting external 3rd party reviews on TripAdvisor, Google, and occasionally Facebook.
In order to collect as many reviews as possible, we send more frequent review requests to capture feedback closer to their guest check-out. We also instituted a plan to resource the owner to follow up quickly with people who left poor reviews.
The goal wasn't just to collect lots of reviews. Once collected, the reviews are utilized strategically to tell a story highlighting the unique features of Montford Inn and help potential guests to visualize their own future stay.
Feedback Stream on Website: gathering all their reviews from across the web into one review stream on their website make it easy for potential guests to read multiple reviews from multiple sites.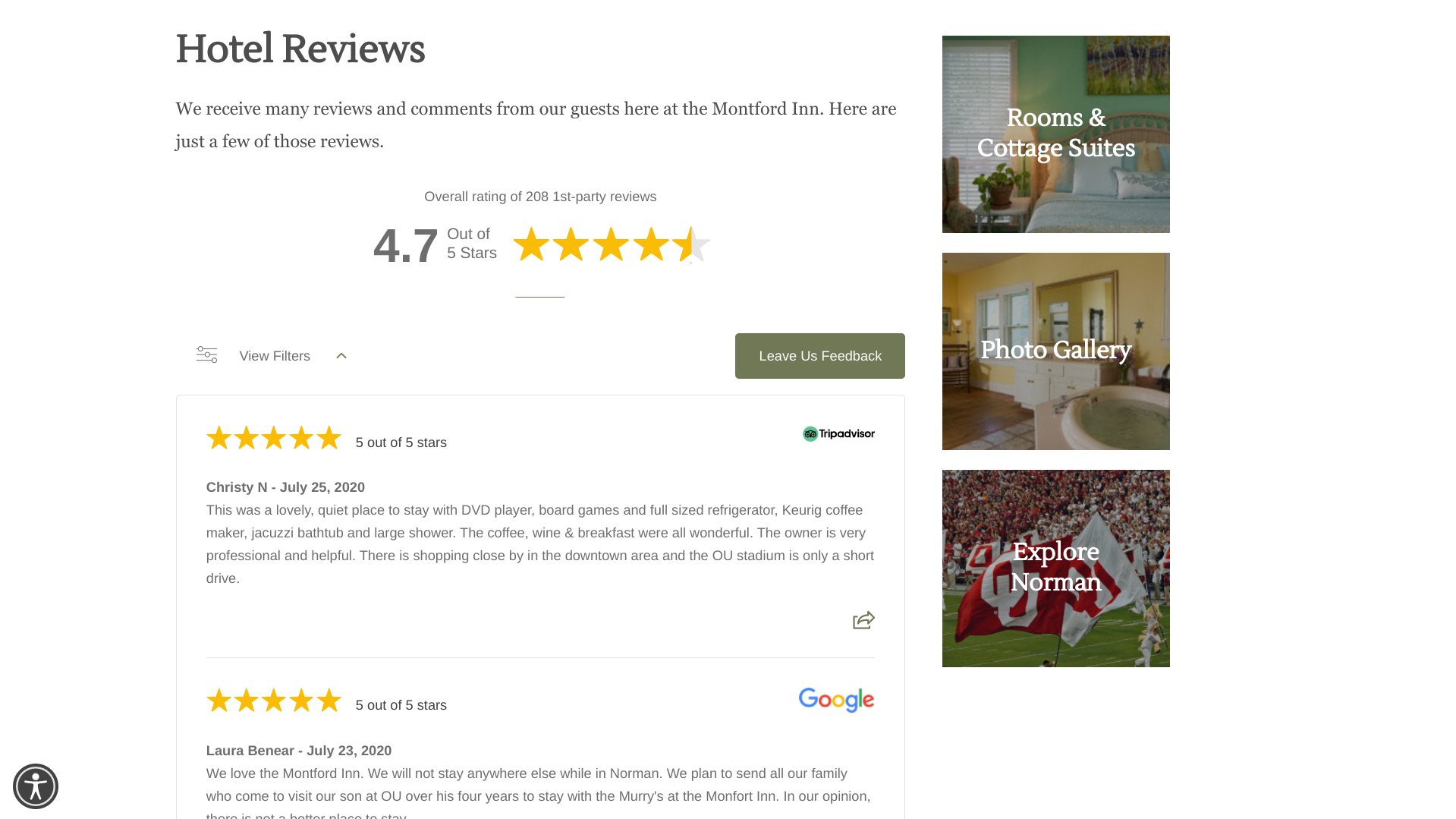 Website Tag Stream: guests will often mention their unique features and services (such as a gourmet breakfast) in their reviews, offering an opportunity to highlight that unique feature in a tag stream on select webpages.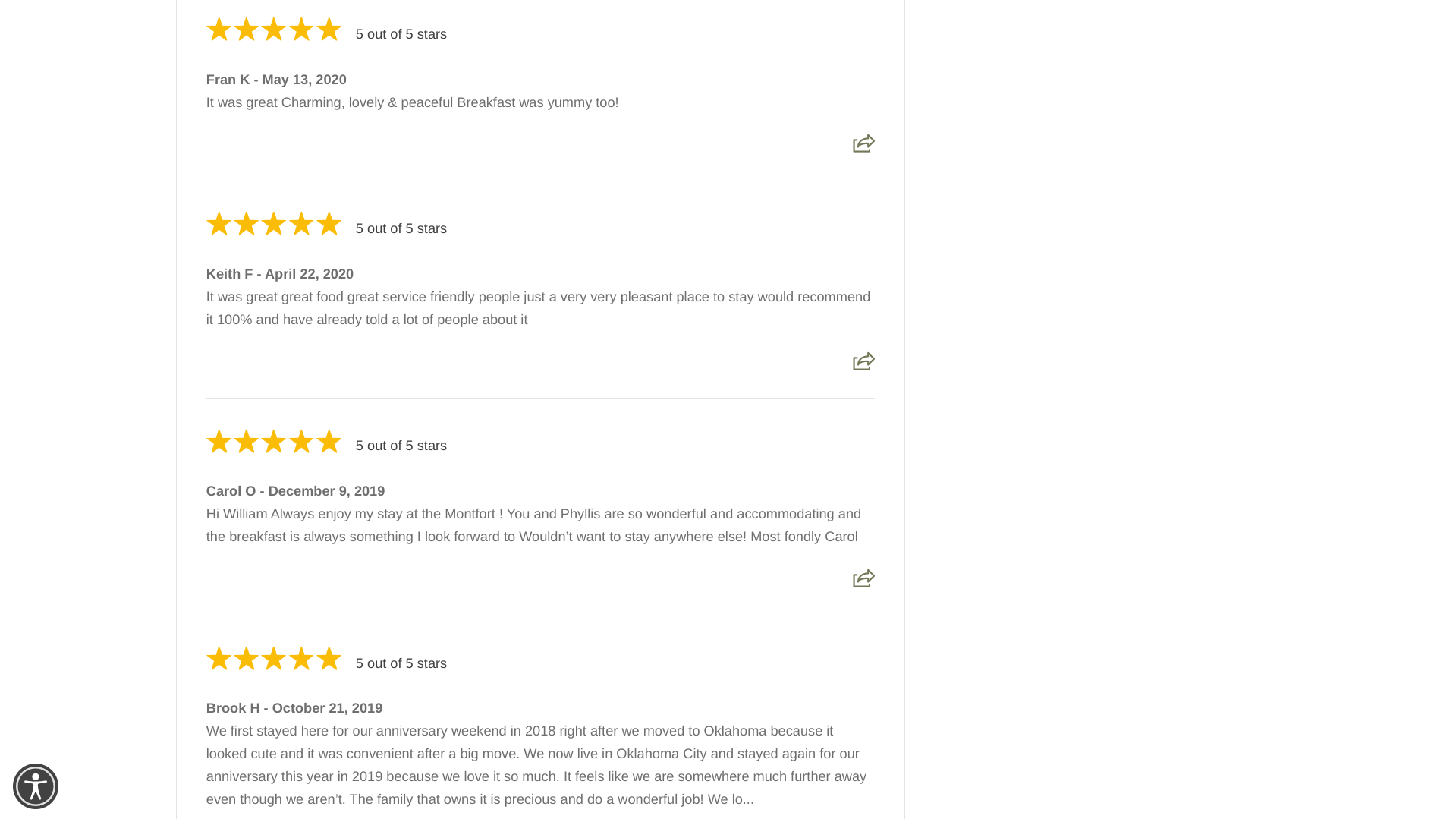 Conversion Pop-Up: potential guests browsing their website will see a pop-up in the corner with recent positive reviews, solidifying their excellent reputation and helping to drive a booking.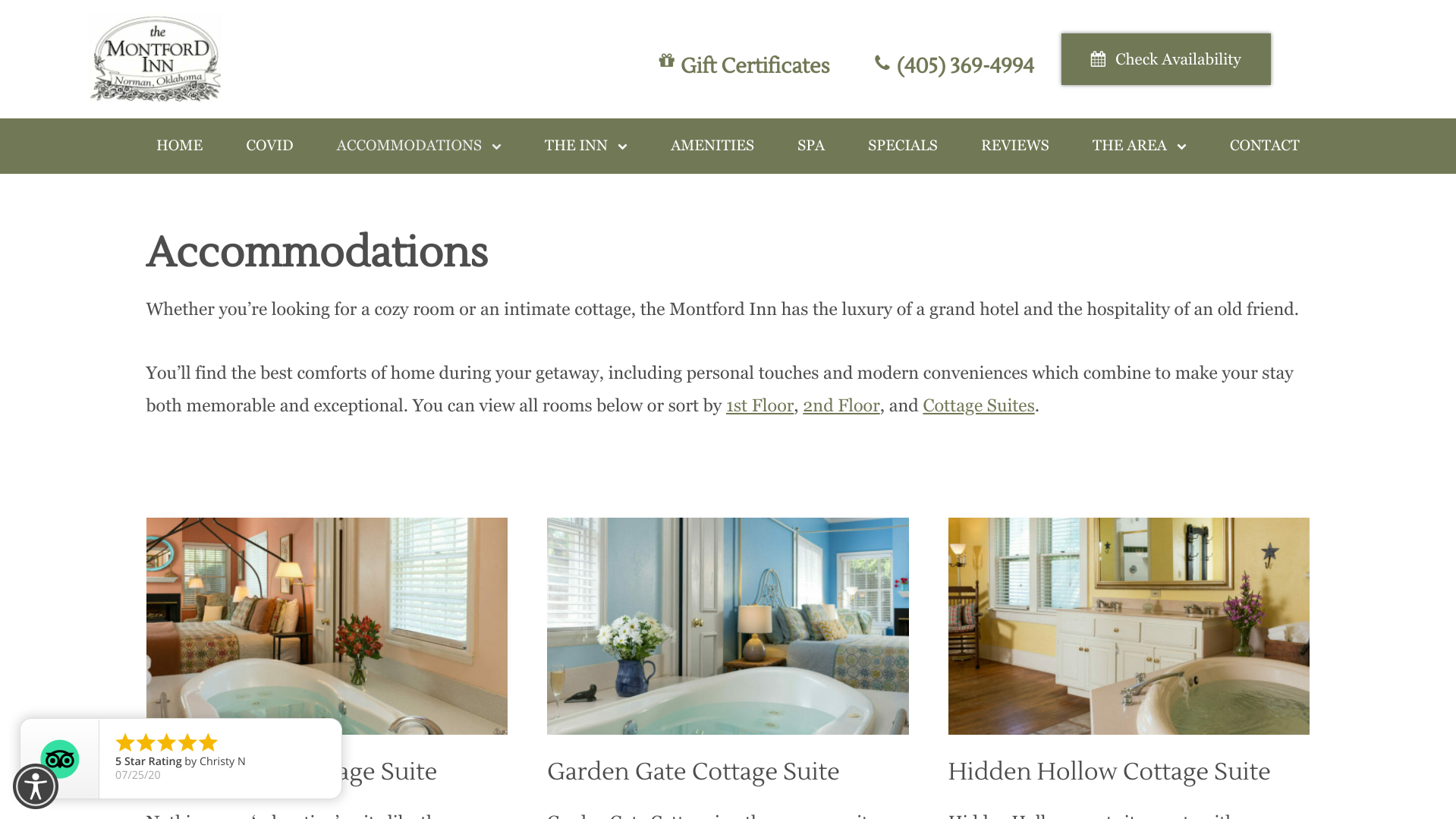 The collected reviews and feedback were also beneficial for fine-tuning their already excellent practices. Identifying their guests' most loved amenities and experiences helped us improve our marketing communication, ensuring we're highlighting what's most important to past, present, and future guests.
Results: Growth of Quality Reviews & Online Reputation
Montford Inn has grown the number of quality online reviews, helping them to maintain an exceptional online reputation across all major sites and a #1 ranking on TripAdvisor.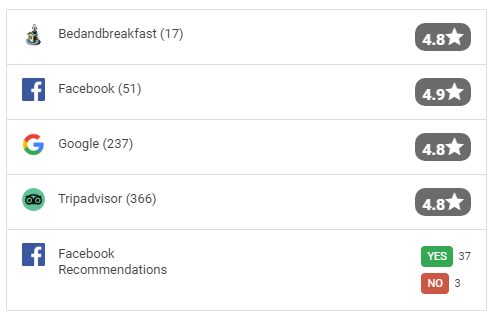 The results of implementing the Lodging Reviews Pro in 2019 include:
195 new 1st party direct reviews
94 new 3rd party reviews (71 on Google & 23 on TripAdvisor)



Montford Inn continues to use the Lodging Reviews Pro service as a way to differentiate themselves and showcase their value in a price-driven market. They monitor satisfaction levels each month using NPS score and in-depth reports from Red Oak Local.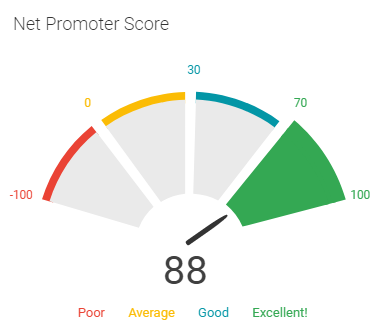 Learn more about the Lodging Reviews Pro service from Red Oak Local.