Having a great reputation offline is important, but when 93% of potential guests check your online reviews before making a decision whether or not to book a room at your boutique lodging property, having a great reputation online is imperative.
Problem: Online Reputation Needed a Boost
Glen Cove Inn & Suites is a long-standing quality property with a great offline reputation and a good quality online reputation. The problem they encountered was that "good" wasn't good enough. Other nearby properties had better views of the ocean, newer buildings, or a better location, and they were losing online reservations to those other properties.
Even though Glen Cove's service was unparalleled by even some of the top-end properties in the area, they were being overlooked in online searches for places to stay in mid-coast Maine.
They had been asking guests for TripAdvisor reviews for years – focusing on that as the solution and working to rank #1 – but TripAdvisor has massively devalued the benefit of being #1, and Google has risen to at least equal importance, we believe. There was a review stream of booking dot com reviews – some of which were not positive at all. In addition, their website did not showcase their existing online reputation in any meaningful way.
In short, their online reputation didn't match their offline reputation, and it directly impacted their ability to bring in new guests through online bookings.
Solution: Lodging Reviews Pro Implemented
Glen Cove needed to highlight their amazing service through online reviews to help them stand out in comparison to other local properties. They also needed to focus on Google reviews (at least as important as TripAdvisor, if not more so) and highlight the best reviews on their own website.
They hired Red Oak Local to manage their online reputation, and we used our Lodging Reviews Pro service to help them capture, manage, and market their online reputation in a more complete way.
We implemented a feedback first system that got a lot of real, in-depth feedback before asking for reviews on other sites. Using a consistent 3-part review system to capture new reviews each and every month, we focused first on 1st Party Direct Reviews to get the most honest in-depth feedback possible. Then we added a balanced approach of encouraging external 3rd party reviews on TripAdvisor, Google, and occasionally Facebook.
We sent more frequent review requests to capture feedback closer to their guest check-out and instituted a plan to resource the owner to follow up quickly with people who left poor reviews.
Once we had reviews coming in, we showcased it all through their feedback stream on their website.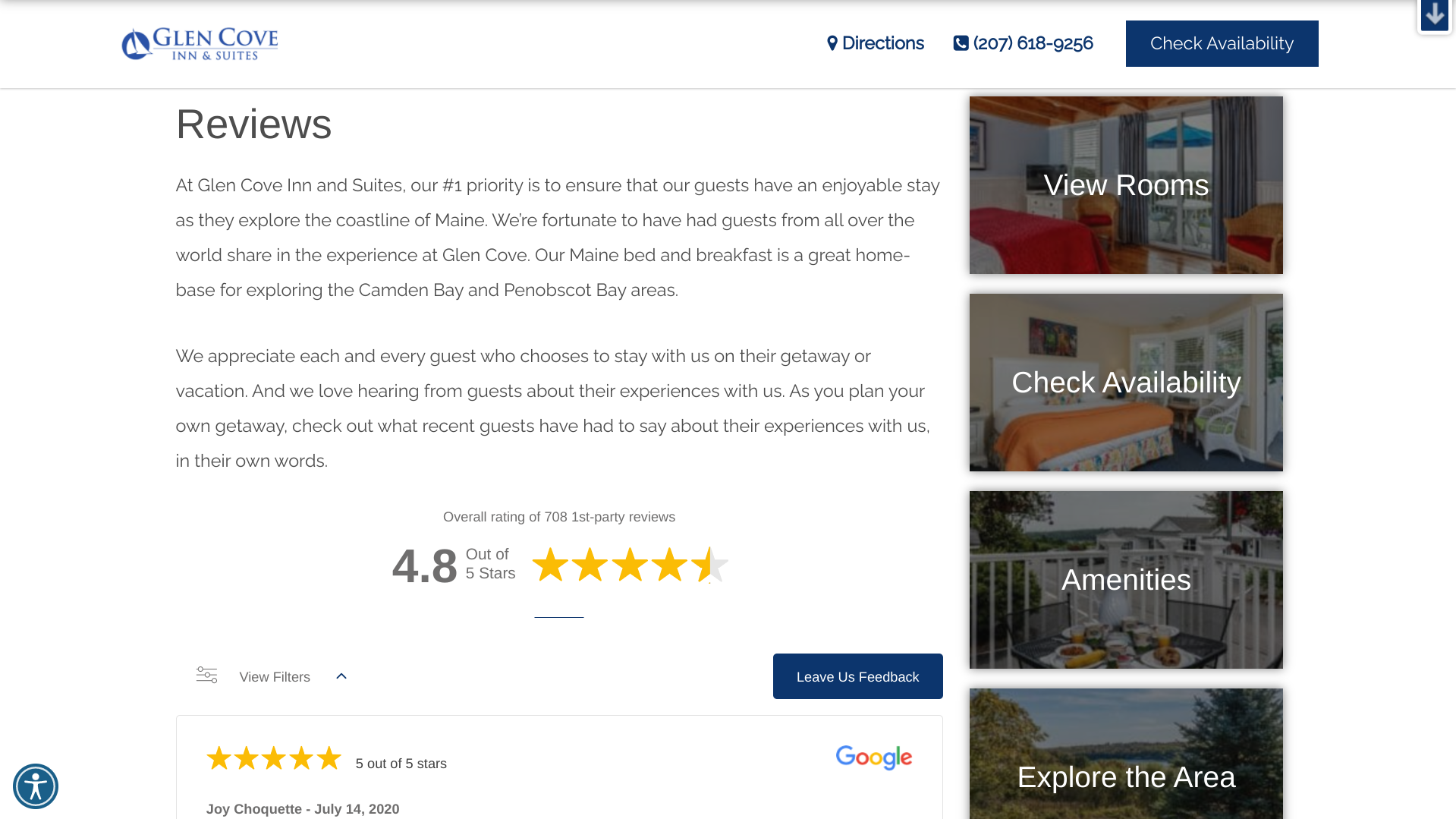 We highlighted review themes on various pages throughout their website, including a highlighted "breakfast" stream.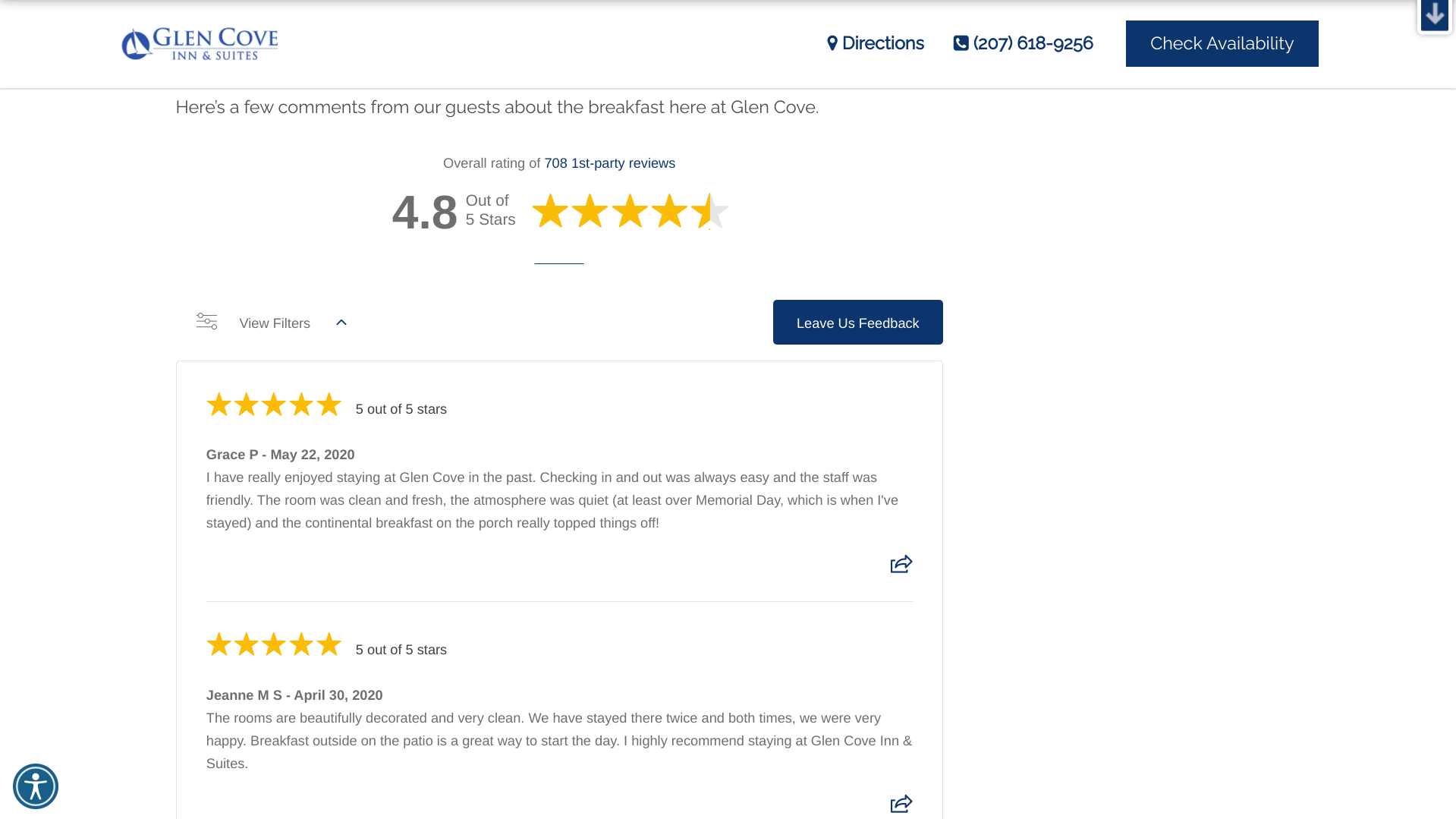 Utilizing our conversion pop-up on high-interest pages of their website, we showcased their excellent reputation to help drive bookings.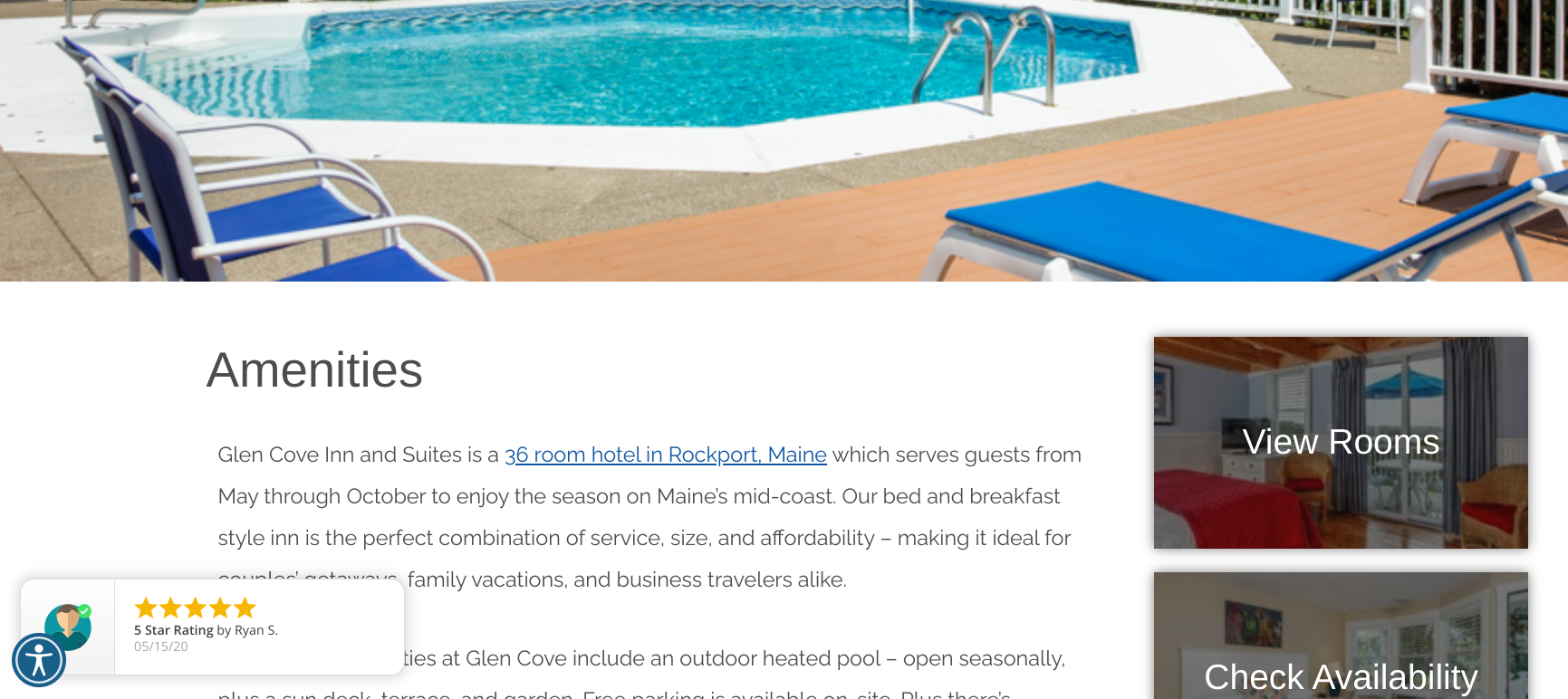 We didn't stop with just collecting reviews, though.
The feedback we gathered helped them improve their already excellent service. And we were able to identify the guests' most loved amenities and experiences, helping to improve our marketing communication and ensure we're highlighting the unique features of the property that are most important to past, present, and future guests.
Results: Growth of Quality Reviews & Online Reputation
As a result of implementing the Lodging Reviews Pro, Glen Cove Inn & Suites was able to collect 685 1st Party Direct Reviews and 273 3rd Party Reviews (130 on Google & 137 on TripAdvisor) in 2019.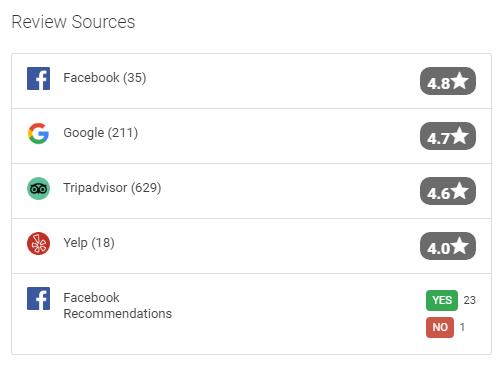 They now boast an excellent online reputation across the most important sites, helping them to stand out in a sea of seaside properties.




Continuing to implement the Lodging Reviews Pro systems allows Glen Cove to maintain their online reputation. They receive monthly updates of their NPS score each month along with in-depth reports from Red Oak Local.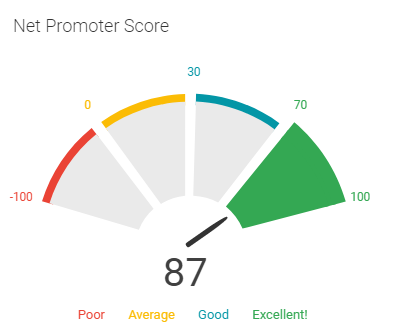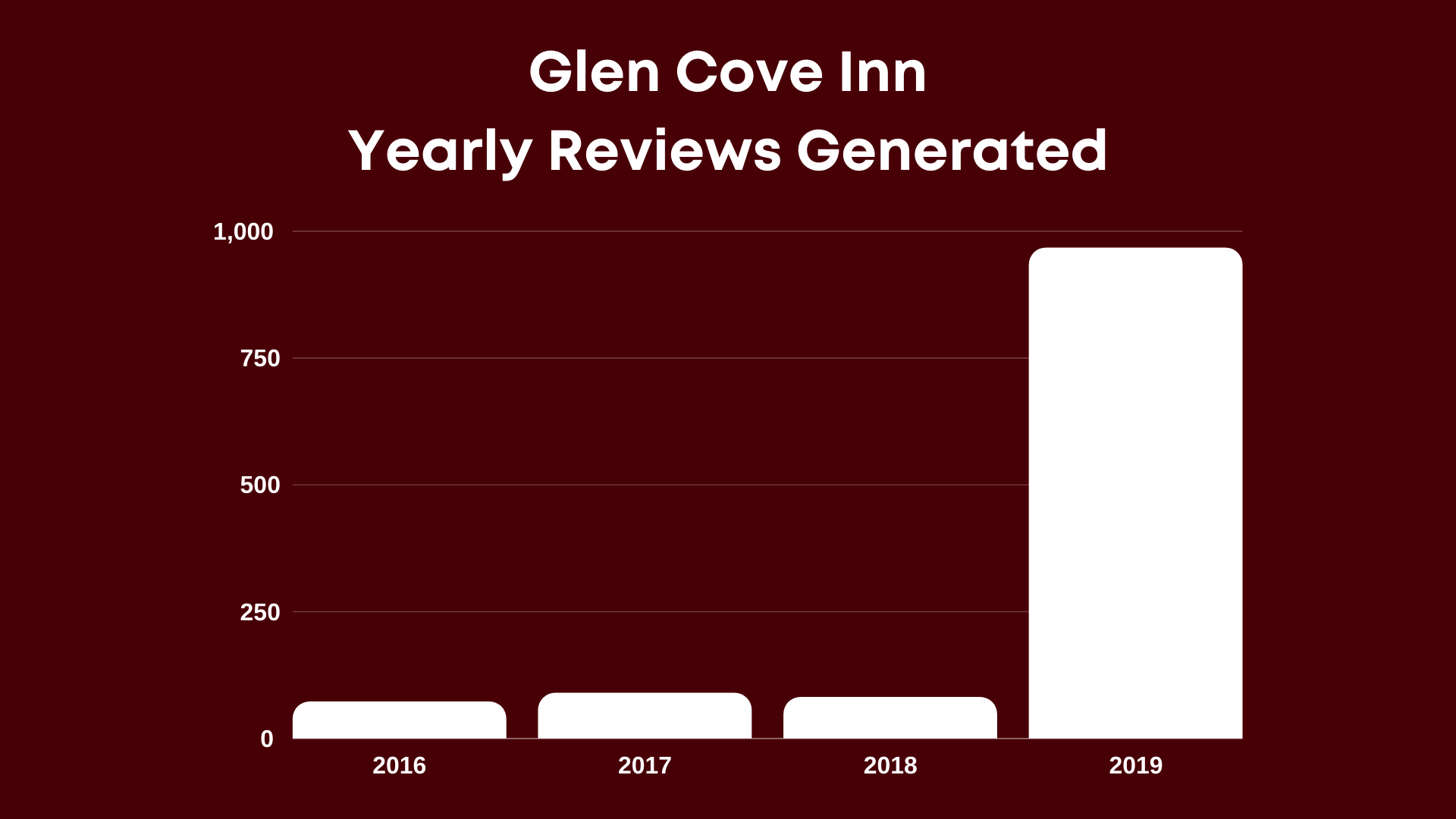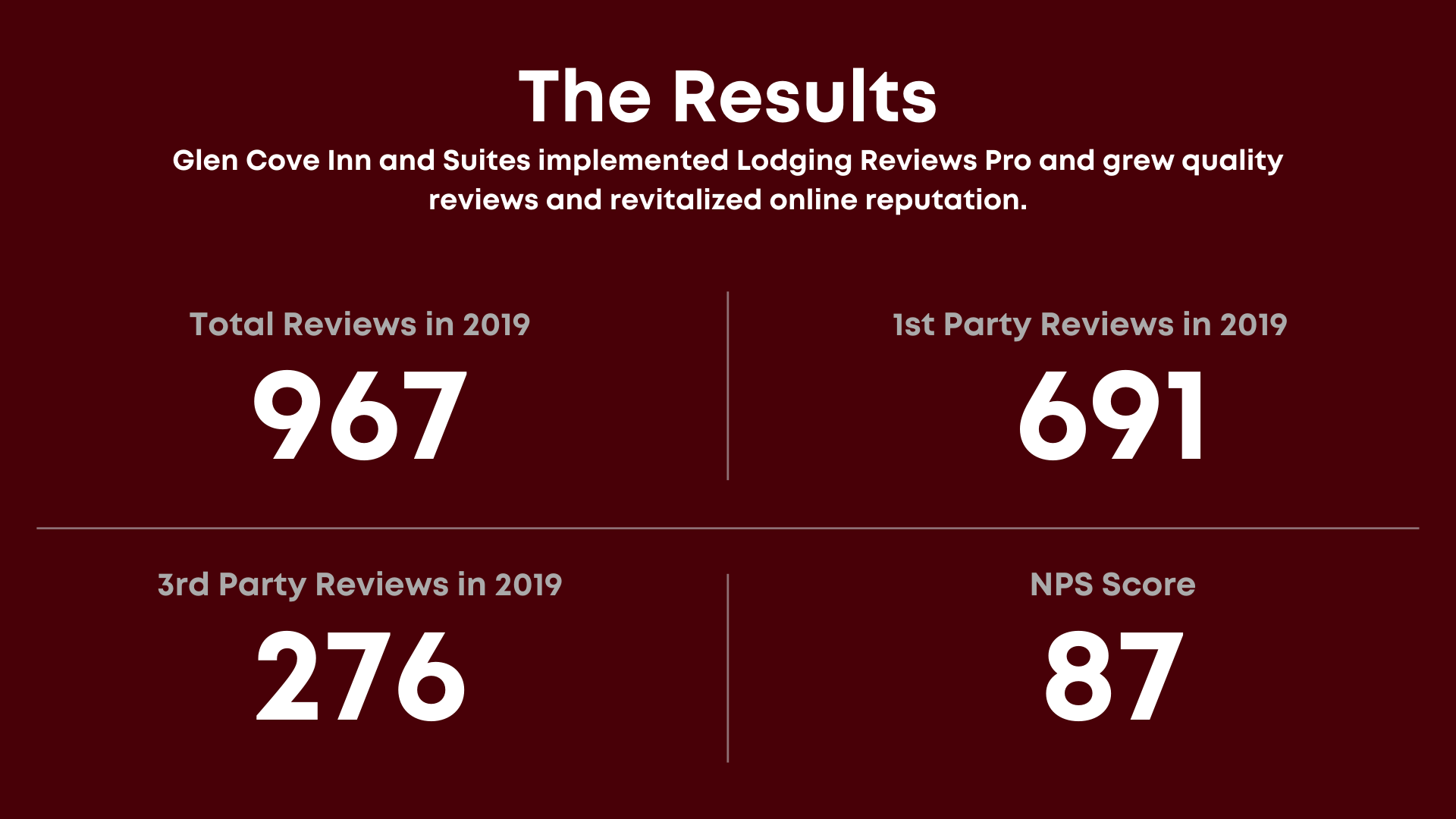 Learn more about the Lodging Reviews Pro service and have your online reputation managed for you!