The owners of small lodging properties are often a cornerstone of the property's unique qualities and emotional connection for past guests. Many guests return time and time again based on the relationships they've formed with the staff and owners of these small properties.
Problem: New Management
Whitestone Inn had served thousands of guests over the years, and many had become raging fans of their unique lodging property in the foothills of the Smoky Mountains. But when the founder and original owner passed away, the new management found themselves needing a way to maintain the emotional connection with past guests. They needed to form their own relationship with these guests to serve them well.
Solution: Relationship Booster Triangle Implemented
The former owner of Whitestone Inn had been a client of our integrated hospitality marketing services, and the new owners chose to continue using our services.
They knew that their best future guest was a past guest, so we used the Relationship Booster Triangle to help them connect with and establish trust and loyalty with these past guests.
Strong Offer
We helped them build a campaign using the Relationship Booster Triangle to keep them top-of-mind and remind past guests of how refreshing and amazing their previous getaways at Whitestone had been.
Driving the campaign was a viral giveaway built around social shares that offered individuals an opportunity to win a fall getaway to the resort.
Email
We built email campaigns that drove traffic to the giveaway and showed how the property was still managed with the same care and attention as it always had been. Affirming to past guests that their future visits to the resort would be as amazing their past visits was the primary goal of these communications as well as encouraging them to dream about a future visit.
Targeted Ads
Using targeted ads, we drove an advertising campaign that sent people to the giveaway landing page. And while we had their attention through the giveaway, we built a special offer that we sent to the entrants to stay over the coming two months to entice them to book a stay in the near future.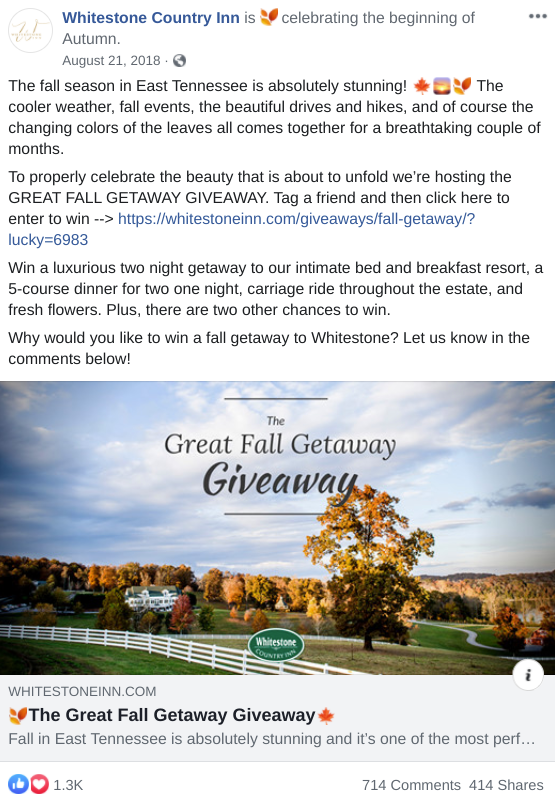 Results: Increased Bookings and Interest
As we applied the Relationship Booster Triangle to this giveaway, we saw great success through entries, bookings, and list building. Individuals were dreaming about a fall getaway in the foothills of the Smoky Mountains at Whitestone Inn.
We successfully drove 5,314 people to enter the giveaway, resulting in new leads and renewed relationships with past guests.
Boomerang targeted ads reached 19,120 individuals resulting in 2,452 likes, comments, and shares. Google Analytics tracked 13,408 page views to the giveaway.
By connecting a special offer with the giveaway, we drove thousands in direct revenue.
Through the application of the Relationship Booster Triangle (strong offer, email, boomerang ads), we were able to reach Whitestone Inn's best value customers (past guests & those directly influenced by past guests). They were able to establish a strong emotional connection with past guests and create new relationships with potential future guests.
Note: This is just a snapshot of the results for one campaign. Whitestone Inn continues to invest in the relationship booster triangle month after month, year after year because it works in both the short and long-term.